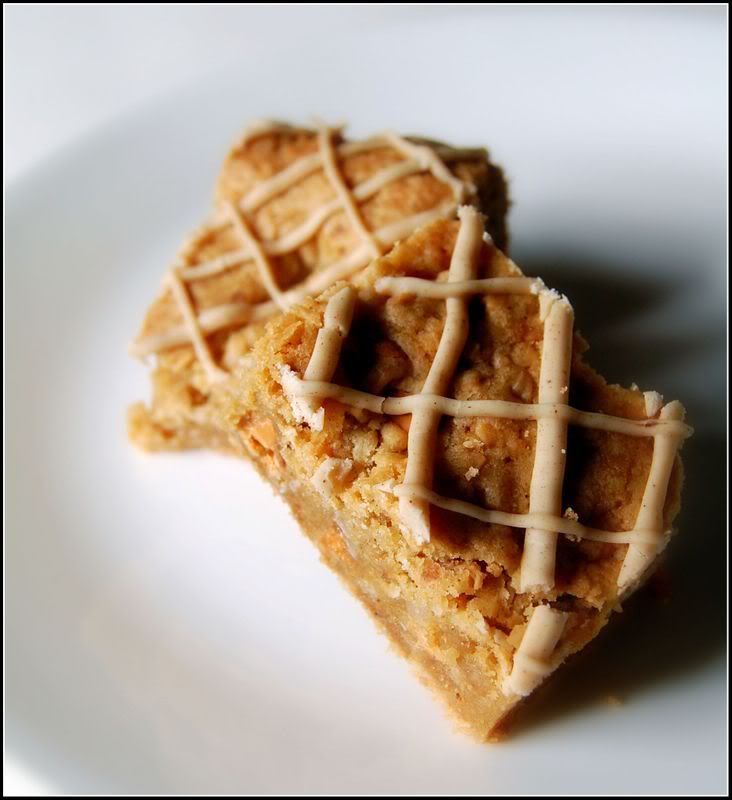 B
aking resumes...
I've been trying to figure out what I should make next. I have some ideas for my next dessert creations, but haven't made them yet. I want them to combine sweet and savory flavors, with an autumn theme.
Speaking of autumn, I got to try my first
quince
the other day. I found them at Wal-Mart! I roasted them in a savory dish, and they were pretty good - tasted like a tart apple. I think I would prefer quince in a jam.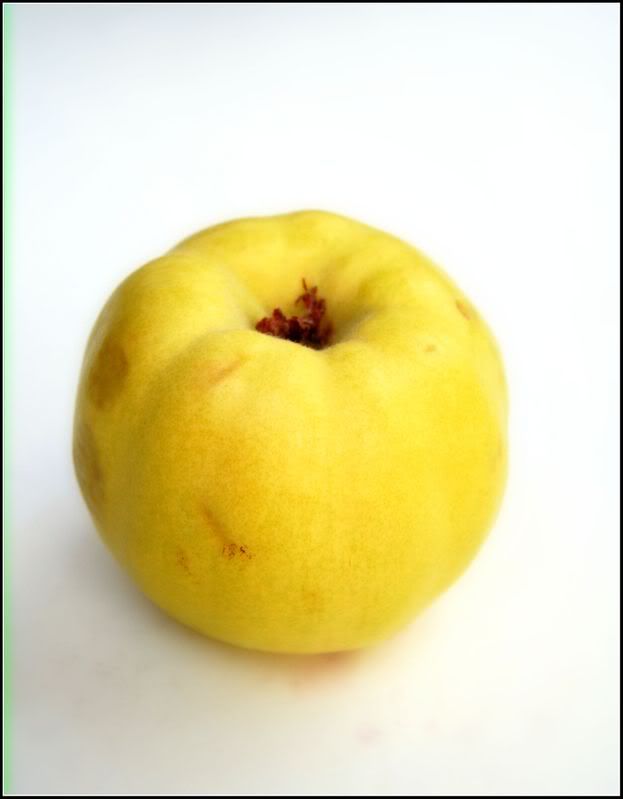 I needed to use up some stuff in my cabinet, so that's how the Browned Butter-Scotch Toffee Blondie was born. Browned butter is incorporated into a blondie, with butterscotch chips, toffee bits and coconut.
I liked these blondies because the tops and sides are all crackly and then the inside is chewy and gooey.
Browned Butter-Scotch Toffee Blondies
Ingredients:
9 tablespoons unsalted butter, softened, divided use
1 3/4 cups all purpose flour
1 teaspoon baking soda
1/2 teaspoon salt
3/4 cup firmly packed brown sugar (light or dark)
1/3 cup granulated sugar
2 teaspoons vanilla extract
1 large egg
1 cup sweetened flaked coconut, toasted
1/2 cup butterscotch chips
1/2 cup toffee bits
Melted white chocolate with cinnamon, optional

Directions:
Preheat oven to 350 degrees F. Butter an 8x8-inch square baking dish.

Melt 6 tablespoons butter in a small saucepan over medium heat and cook butter, stirring frequently, until it starts to foam and brown - about 5 minutes; set aside.

In a medium sized mixing bowl, sift together flour, baking soda and salt.
In a large mixing bowl, using a mixer on medium speed, beat together 3 additional tablespoons butter, brown sugar and sugar, until creamy, about 1-2 minutes. Beat in vanilla and egg until combined. Beat in browned butter until combined. Reduce mixer speed to low and beat in flour mixture until just combined; stir in coconut, butterscotch chips, and toffee bits, until combined.

Scrape batter into prepared baking dish. Bake at 350 degrees F for 25-30 minutes, or until golden brown.
Cool on a wire rack completely, before drizzling melted white chocolate with cinnamon over the top. Allow the white chocolate to set before slicing.

Makes 12 bars